Cinema/Video/New Media
Fall 2000
Guest Co-Editor: Timothy Murray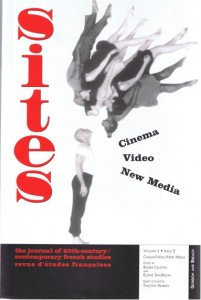 Cover photo by Laurent Philippe
Interviews
Jacques Rancière
Michèle Waquant
Paul Virlio
Articles and Essays
Tim Murray
FACING FRENCH DIGITALITY IN THE GLOBAL SPHERE
Samuel Weber
THE VIRTUALITY OF THE MEDIA
Judith Maybe
HENRI-GEORGES CLOUZOT'S LE CORBEAU AND THE CRIMES OF WOMEN
Alec Hargreaves
RESUSCITATING THE FATHER: NEW CINEMATIC REPRESENTATIONS OF THE MAGHREBI MINORITY IN FRANCE
Dominique Bluher
SOUVIENS-TOI DE MOI: A HIP HOP FILM?
Maureen Turim
VIRTUAL DISCOURSES OF HISTORY: COLLAGE, NARRATIVE, OR DOCUMENTS IN CHRIS MARKER'S LEVEL 5
Carina Yervasi
DISLOCATING THE DOMESTIC IN CHANTAL ACKERMAN'S JEANNE DIELMAN
Grace An
PAR-ASIAN SCREEN WOMEN AND FILM IDENTITIES: THE VAMPIRIC IN OLIVIER ASSAYA'S IRMA VEP
Tom Conley
REVAMPING IRMA: IMMODEST REFLECTIONS ON FRENCH CINEMA AND GLOBALIZATION
Reda Bensmaïa
BARTHES/GODARD: L'ESSAI CINÉMATOGRAPHIQUE EST-IL POSSIBLE?
Vanessa Manko
PARADIS: THE TETHERING OF TERPSICHORE AND TECHNOLOGY
Cynthia Marker
SAFI FAYE AND SARAH MALDOROR: CINÉCRIVAINES OF AFRICAN CINEMA
Geneviève Sellier
MASCULINITY AND POLITICS IN NEW WAVE CINEMA
Fiction and Poetry
Benoit Conort
CETTE VIE EST LA NÔTRE
Sandra Moussempes
VESTIGES DE FILLETTE/VESTIGES OF GIRLHOOD
Maurice Dantec
LES RACINES DU MAL/THE ROOTS OF EVIL
Questionnaire
If Cinema can be said to constitute the representational site par excellence of the 20th century, how might you understand its past, present, or future in relation to developments in video and new media?
Scott Durham (BETWEEN THE CINEMATIC AND THE DIGITAL: THE ART OF MODULATION); Juliet Flower MacCanneal; Pierre Levy (RÉFLEXION SUR L'ART ET LES MUSÉES DANS LA NOOSPHÈRE); Laurent Sauerwein (SKIN DEEP); Steven Ungar