The Google Era? / L'Ère Google?
Editors: Roger Célestin and Éliane DalMolin
Guest Co-Editor: Anne-Marie Picard
September 2019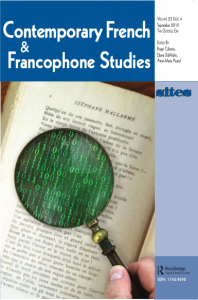 Editors' Introduction
Articles
THE BRAIN OF TOMORROW, GOOGLE, AND CREATIVITY
Lionel Naccache and Karine Naccache
Translation by Dawn Cornelio
LA MÉMOIRE PAR LE CHEMIN
François Bon
PRATIQUE ET POÉTIQUE DU LIVRE À L'ÈRE GOOGLE
David Desrimais
MICHEL HOUELLEBECQ: GOOGLE, PLAGIARISM, AND POSTPRODUCTION
Russell Williams
INTERNET SERVICES: ARE WE AT THE HELM?
Claudia Roda
SEARCH, CONNECT, OBEY
Georgi Stojanov
GOOGLE AS AN INFORMATION MONOPOLY
Nikos Smyrnaios
GOOGLE AI: OPPORTUNITIES, RISKS, AND ETHICAL CHALLENGES
Seraya Maouche
DIFFUSION, CONFUSION, DISPERSION, L'ŒUVRE D'ART À L'ÈRE GOOGLE
Laure-Caroline Semmer
GOOGLE: LE "DARK SIDE"
Michel de Pracontal
GOOGLE TRANSLATE GETS VOLTAIRE: LITERARY TRANSLATION AND THE AGE OF ARTIFICIAL INTELLIGENCE
Peter Constantine
LE MONDE SELON GOOGLE DANS LE ROMAN D'AURÉLIEN BELLANGER LA THÉORIE DE L'INFORMATION
Emmanuel Buzay
LES NOUVEAUX MAÎTRES DE L'ÉCRITURE DU MONDE
Éric Guichard
GOOGLE, THE MEDIUM, AND HERMENEUTIC PRINCIPLES
Anke K. Finger
HAS GOOGLING MADE US WORSE LISTENERS?
Hanna Kiri Gunn
INTERROGER GOOGLE : ENTRE REQUÊTE ET QUESTIONNEMENT
Jacques Athanase Gilbert
QUESTIONNAIRE
Jérôme Game, Alexandre Gefen, Robert Payne, Philippe Zawieja, and Daniel Vaillancourt