Mapping Francophone Postcolonial Theories
Editors: Roger Célestin and Eliane DalMolin
Guest Co-Editors: Maya Boutaghou and Emmanuel Bruno Jean-François
March 2018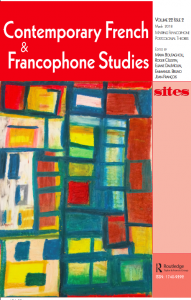 Editors' Introduction
Interviews
AN INTERVIEW WITH FRANÇOISE LIONNET. CROSSING BOUNDARIES, THINKING INTERSECTIONALLY: PEDAGOGY, METHODOLOGY, AND THE CHALLENGES OF RELATIONALITY
Emmanuel Bruno Jean-François
AN INTERVIEW WITH ANANDA DEVI. BEYOND FAÇADE AND GROTESQUE SPLUTTERING: THE WORLDS AND WORK OF LITERATURE
Emmanuel Bruno Jean-François
ENTRETIEN AVEC MARYSE CONDÉ : QUELQUES ACQUIS ET MANQUES DE LA LITTÉRATURE FRANCOPHONE DES ANTILLES
Roger Célestin
ENTRETIEN AVEC RAPHAËL CONFIANT : AU DELÀ DE LA CRÉOLITÉ ?
Roger Célestin
FRANCOPHONIE ET LITTÉRATURE COMPARÉE
UN ENTRETIEN AVEC JEAN BESSIÈRE
Maya Boutaghou
Articles
READING JOYCE IN ALGIERS
Corbin Treacy
MULTILINGUAL STRATEGIES IN RACHID BOUCHAREB'S HORS LA LOI
Anne Donadey and Wissem Brinis
RE-LOCATIONS OF LEBANON: THE LITTORAL AND EXTRATERRITORIAL GEOGRAPHIES IN POSTWAR FRANCOPHONE WRITING
Nadia Sahely
WHAT BOOKS DO YOU READ? TORU DUTT, A SHEAF GLEANED IN FRENCH FIELDS (1876) OR IMAGINING FRANCOPHONE INTERTEXTUAL MAPS
Maya Boutaghou
CREOLIZATION, HINDUISM, AND RE-WORLDING TRAJECTORIES IN CONTEMPORARY MAURITIAN FICTION
Emmanuel Bruno Jean-François
DANIEL HONORÉ'S MA CHINE-NATION: AFRASIAN MÉTISSAGES AND ANIMALITY IN LA RÉUNION
Benjamin Hiramatsu Ireland
HAITIANS IN EXILE: THE THEORETICAL TURN
Adelaide M. Russo
(RE-)INSCRIBING THE SOUTH PACIFIC IN THE FRANCOPHONE WORLD: (NON-) MOTHERHOOD, GENDERED VIOLENCE, AND INFANTICIDE IN THREE OCEANIAN WOMEN WRITERS
Nathalie Segeral
WHO OWNS THE TRAUMA BLANKET? TRACING KADER ATTIA'S GHOST AND THE "COUVERTURE DE SURVIE" IN TRANSIT
Megan C. MacDonald
WHEN THE WALLS FALL: IS NATIONAL IDENTITY AN OUTLAW?
Patrick Chamoiseau, Édouard Glissant, Translation by Jeffrey Landon Allen and Charly Verstraet
Fiction
LE NOMBRE ULTIME
Raphaël Confiant
THE ULTIMATE NUMBER
Translation by Dawn M. Cornelio