TRANSLATING TRUMP/TRADUIRE TRUMP

Editors: Roger Célestin and Eliane DalMolin
Guest Co-Editor: Anne-Marie Picard
December 2017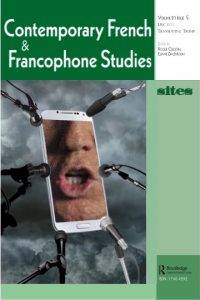 Editors' Introduction

Anne-Marie Picard
Le mot juste : Interview with Howard Jacobson
Camille Bloomfield and Lily Robert-Foley
Tweetranslating Trump: Outranspo's "bad translations" of Trump's tweets
Peter Constantine
On the Perils of Translating Men in Power
Olivier Mannoni
La force de l'incohérence
Damion Searls
Translating the Event Horizon
Carles Torner      
Un-translating Trump
Chikako Tsuruta
Trust in Trump in Translation
Bérangère Viennot
De la difficulté de traduire Donald Trump
Allison Coffelt
Slippery Kitsch and the Aesthetics of Power
Michel de Pracontal
The American Nightmare
Gilles Paris
In Trump's head, and back
Richard Wolffe
In His Own Words: Why and How Journalists Need To Tell The Truth About Donald Trump
Waddick Doyle
Translating Genres: Translating Leaders: Trump and Berlusconi
Steven R. Ekovich
Listening to Donald Trump
Dexter Gabriel
Translating Trump through A Brief History of Black America
Jayson Harsin
Trump l'Oeil: Is Trump's Post-Truth Communication Translatable?
Adriana X. Jacobs
Translating Cats and Cowards
Noëlle McAfee
Trump and the Paranoid-Schizoid Politics of Ideality
Yann Dienner
Humpty-Trumpy
Kirsten Lind Seal
TAKE MY PRESIDENT, PLEASE!
Michel Schneider
Le premier président Facebook-Twitter de l'Histoire
Robert Albouker
You're Fired!
Ernst Bens
Epître à Biquet
Amelia Harvey
"I have the best words." An Examination of Word-Choice about Donald Trump
-Donald Trump says he "has the best words"*: according to you, does he have a particular language and what would be the particularities of this language?
[* "I'm very highly educated. I know words; I have the best words…
https://www.youtube.com/watch?v=7UIE_MRAhEA
Speech at Hilton Head, South Carolina– December 2015]
Respondents:
-Esther Allen
-Marie Darrieussecq
-Philip Golub
-Edith Grossman
-Liora Halperin
-Jacques Lezra
-Michael Lynch
-Donna Masini
-Benjamin Moe
-Olivier Penot-Lacassagne
-Burton Pike
-Alyson Waters